For instructions on creating a user account or signing in to the Skytap Support Portal, please refer to the following Skytap knowledge article: Setting up a new account for Skytap Support Portal.
Accessing the Portal
Once you have created a user account in the Skytap Support Portal, you can access the portal at https://support.skytap.com.
Signing in to the Skytap Support Portal will bring you to the Home page: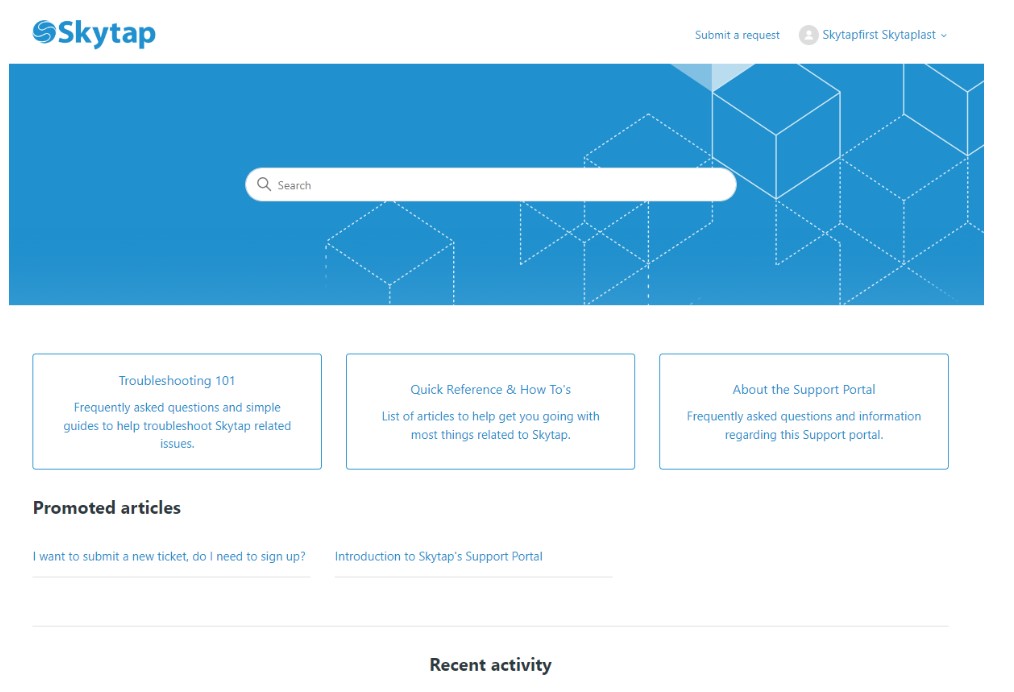 Available Resources
You can use the portal to open a new support request with our team, view the status of your current active requests along with any past cases, and review any activities you have participated in. You may also search for specific topics among our knowledge base, or browse articles by topic.
Submit a request
Use this selection to begin the process to submit a support ticket request to the Skytap Support team. This process is covered in more detail in the knowledge article: "How to submit a Support request".
Your user profile menu
There are two links at the top right corner of your browser tab: one will take you to the form to submit a new ticket (see above); the other opens a drop-down menu where you can choose to view either requests or activities:

Requests:

selecting this option will bring you to a list of your support requests with Skytap, both those currently open and those that are now solved or closed. You will be able to view the status of any open requests you have with Skytap Support and see recent activity, as well as let us know you consider a ticket to be resolved.

Activities: selecting this option will bring you to you Contributions screen, showing any knowledge Article comments you have submitted; along with any articles you have chosen to


follow within the Skytap Support Portal.

Sign out:

use this selection to sign out of the Skytap Support Portal.
To return to the home page:
You can return to the Home page by clicking on the Skytap logo in the upper left of any page.
Search
The next section of the Home page provides a search field, to search any public content available within the Skytap Support Portal and our Help documentation, with primary emphasis on knowledge article content.
Articles
Below the Search field are Skytap's Knowledge content article sections, where you can browse the available knowledge articles at your own pace.
Promoted articles
This section will list those articles being promoted the most as current items of interest to our administrators and user community.
Recent activity
Here you will find Skytap's knowledge articles, listed by the most recently published: